The 15th C2030 Salon | Green Power of Bamboo and Rattan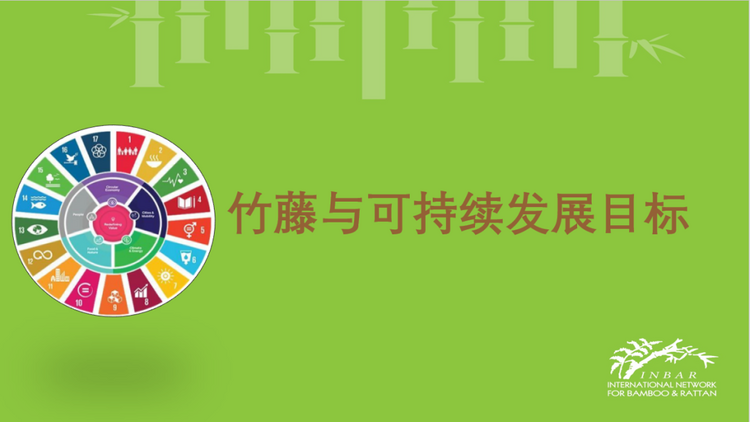 On December 17, the International Center for Creativity and Sustainable Development (ICCSD) under the auspices of UNESCO held the 15th Creativity 2030 Salon with the theme of "Bamboo and Rattan and Sustainable Development". Li Yanxia, Senior Programme Officer of International Bamboo and Rattan Organisation(INBAR)'s Global Programme team, was specially invited to help the audience explore the world of bamboo and rattan and witness the vital role of the global bamboo and rattan cause in realizing the UN's Sustainable Development Goals (SDGs).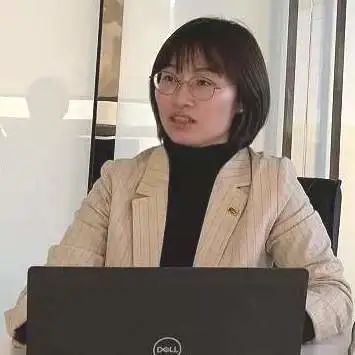 Li Yanxia
Senior Programme Officer of INBAR's Global Programme team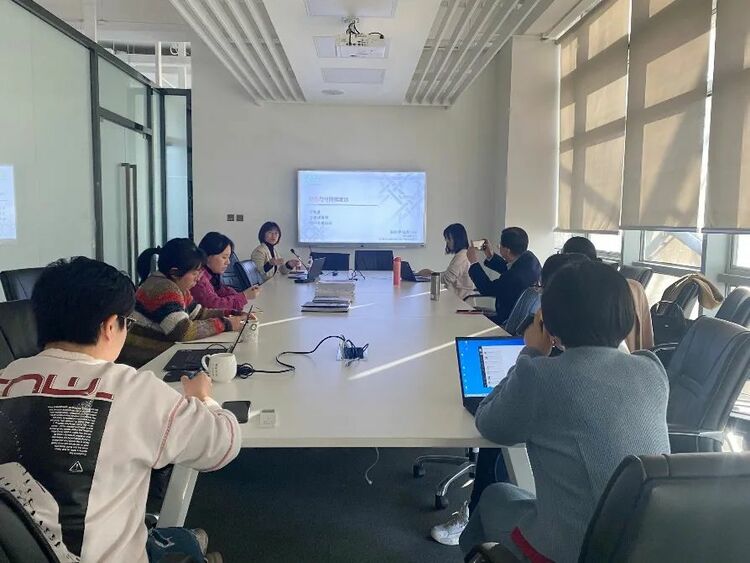 The Salon
Secrets You Don't Know about Bamboo
1. How tall can bamboo grow in a day?
Bamboo is the fastest growing plant in the world, growing by 1.21 meters per day. It takes 30-60 days for running bamboo to reach great height, and 80-100 days for clumping bamboo.
2. Does bamboo grow fat?
It doesn't! Although bamboo grows fast, its thickening is done underground, and its diameter will not increase after bamboo shoots emerge out of the ground. Bamboo stem ripening is mainly a process of dry matter accumulation. The moisture content of young bamboo is high, and the percentage of dry matter is low (only 40% of mature bamboo stems).
3. How many species of bamboo are there in the world?
There are 1,642 bamboo species worldwide and 837 in China, mainly distributed in 16 cities and provinces south of the Yellow River.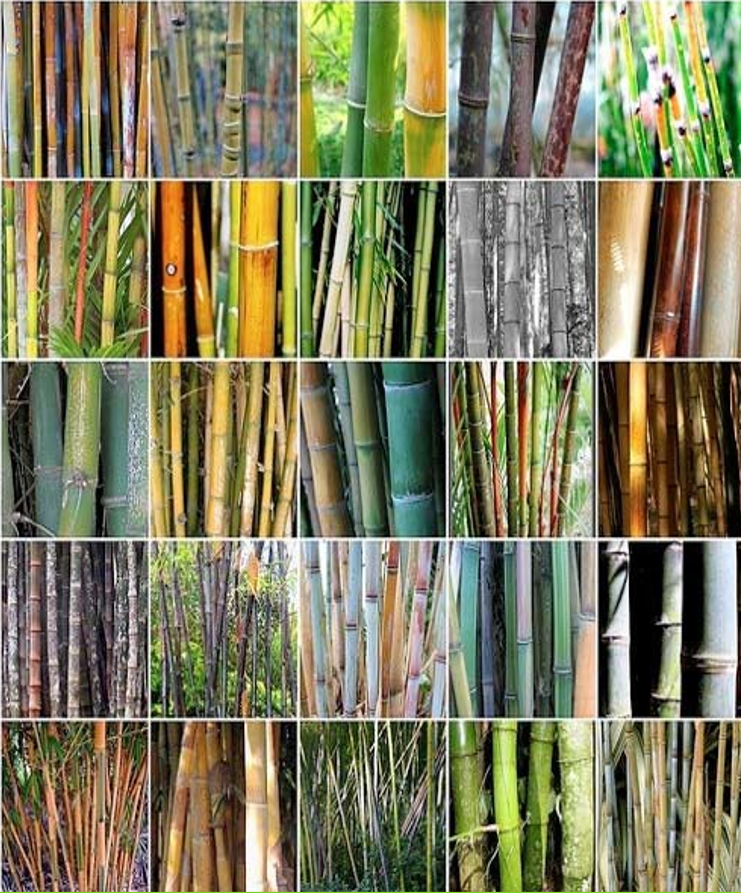 4. Does bamboo flower?
It is generally believed that the flowering cycle of running bamboo is about 60-100 years, and it will die after flowering. There are still some controversies about the bamboo flowering theory, which needs further study.
5. What are the applications of bamboo?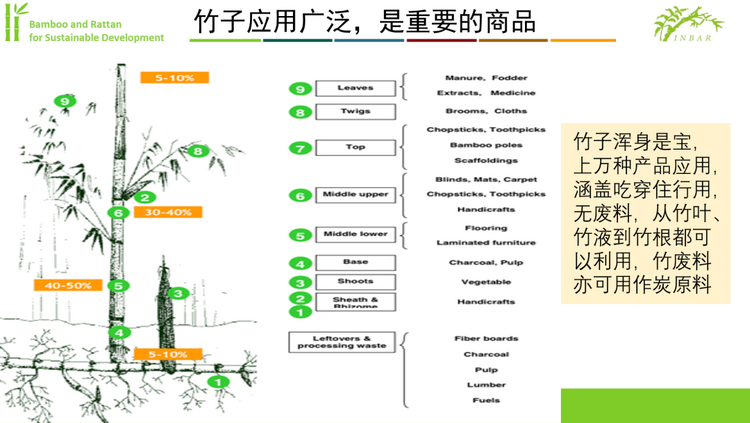 Bamboo can be remarkably useful in numerous fields. It is used in tens of thousands of products, covering food, clothing, housing and transportation. Its utilization generates no waste, since all its parts including leaves, liquid and roots can be helpful. Bamboo waste can also turn into raw material for carbon production. Besides, bamboo has a large and adaptable root system that can effectively help restore degraded land. Bamboo is also a renewable resource that can be harvested each year and used to replace wood, concrete and steel in making a variety of durable products. Rapid carbon accumulation and efficient carbon storage make bamboo increasingly valued as a carbon sink and important natural means of mitigating global warming.
In China, especially in southern China, bamboo has been everywhere in people's life and culture since ancient times, widely used in construction, food, clothing, transportation, agricultural production, daily life, musical instruments and other fields. In this process, various intangible cultural heritages such as bamboo weaving, bamboo carving and bamboo paper making were born.
Bamboo and Rattan and SDGs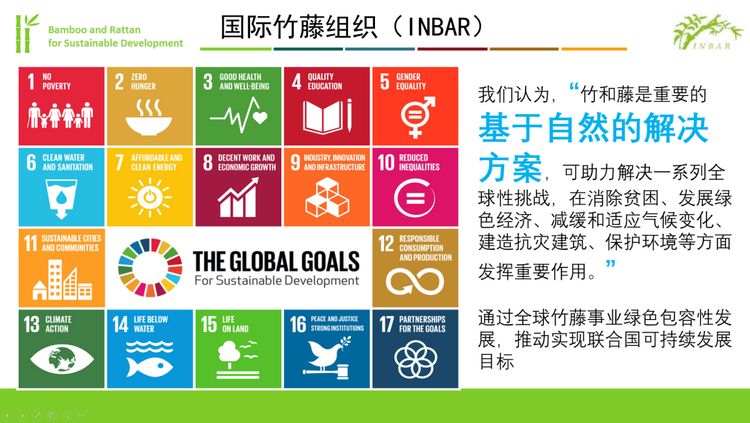 "Bamboo and rattan are important nature-based solutions that can help address a range of global challenges, playing a crucial role in eradicating poverty, developing a green economy, mitigating and adapting to climate change, building disaster-resistant architecture and protecting the environment." The International Bamboo and Rattan Organization (INBAR) was founded in 1997 as the first intergovernmental international organization headquartered in China. The organization aims to use bamboo and rattan resources sustainably and promote the welfare of producers and users of bamboo and rattan. By pioneering new applications of bamboo and rattan, it plays a unique role in environmental and ecological protection, poverty alleviation and the promotion of global fair trade.
[Bamboo and Rattan and SDGs]
Bamboo and Rattan Resources Are Vital to Improving Livelihoods and Eradicating Poverty
More than 200 million people worldwide depend on bamboo for their livelihood, and 8 million people in China are engaged in bamboo industry development. Anji County, Zhejiang Province has a bamboo forest area of 1.08 million mu (72,000 hectares), and its bamboo industry generates a total output value of 20 billion yuan (3.1 billion U.S. dollars), with nearly 50,000 employees and a per capita output value of 40,000 U.S. dollars. The total number of bamboo industry enterprises has reached 1,360 (2016).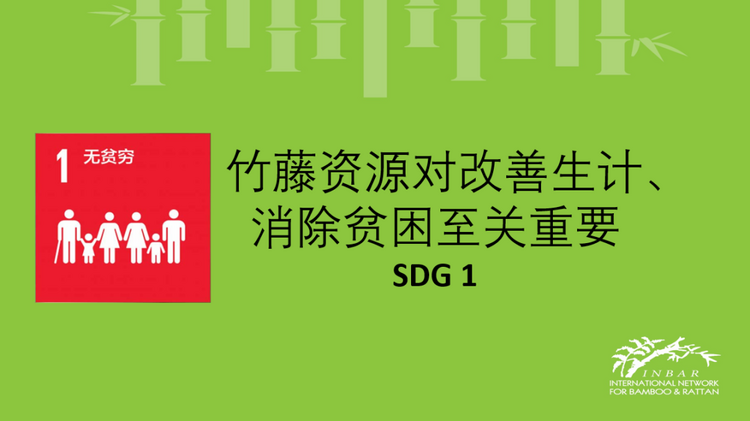 INBAR is vigorously cooperating with UNESCO to enhance sustainable livelihoods at World Heritage Sites. One of the pilot projects, "Bamboo for Carbon Neutrality in Rural Areas", has been launched at Chishui Natural World Heritage Site. The project helps with rural vitalization by building training bases, developing curriculum modules, organizing training and capacity building, and promoting exhibitions. In addition, it also echoes the common concern of the international community on climate change and China's commitment to peaking carbon dioxide emissions by 2030 and achieving carbon neutrality by 2060. Based on the characteristic bamboo forest resources in Chishui, pilot actions of carbon reduction and low-carbon development in World Heritage Sites are carried out to explore low-carbon development paths in rural areas and enhance the climate resilience of rural communities. At present, more than 300 people have benefited from the project, 60% of whom are women. 33 local residents earn income from the supplier, and the monthly gross income of the workshop is 80,000 yuan (about 12,563 U.S. dollars).
Bamboo Is an Economical and Clean Energy Source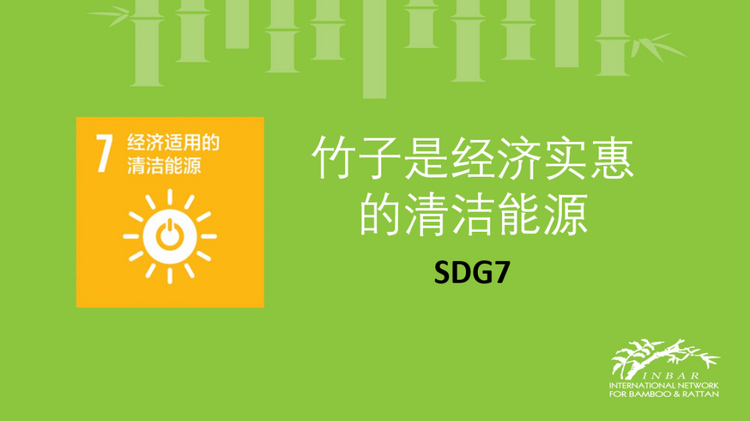 Bamboo can be used to produce bamboo charcoal and solve the problem of daily carbon utilization and electricity shortage, hence reducing deforestation, mitigating the pressure of natural forest logging, avoiding carbon dioxide emissions caused by deforestation, alleviating climate change, and improving communities' ability to adapt to climate change.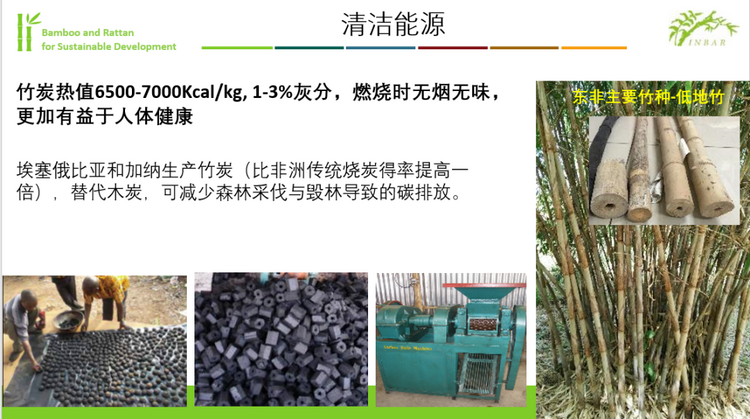 Barrel, spherical and granular charcoal can also be made from bamboo. At the same time, burning bamboo charcoal is better for human health since it is smokeless and odorless.
Sustainable Bamboo Architecture
Bamboo can also be used in architecture to facilitate the implementation of this goal. Bamboo boasts a high strength, known as the steel bar-like plant, which has both the strength of cement and the toughness of plants. It can be adopted in the construction of green, low-carbon and energy-saving buildings, highlighting the concept of living in harmony with nature.
Some Buildings: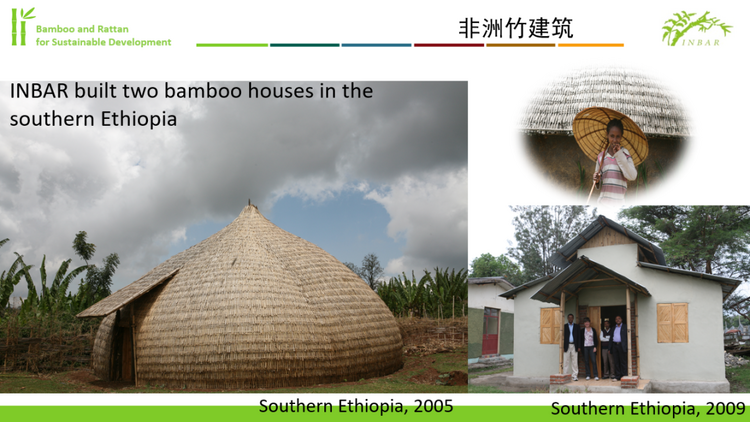 Bamboo Industry Development Enhances Green Consumption and Production SDG12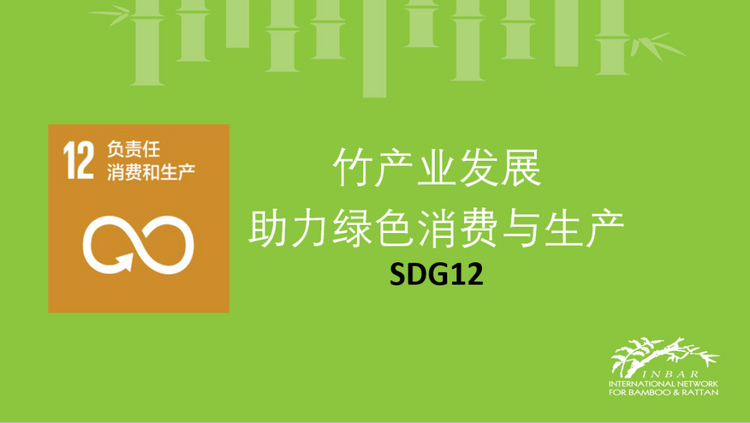 Bamboo can replace plastic and reduce environmental pollution as a green, low-carbon, fast-growing, easily renewable and biodegradable material. Using bamboo instead of plastic is suitable for numerous consumption scenarios, such as tableware, various sticks, flooring, furniture, daily necessities, building materials, construction, automotive interiors, wind turbine blades, and drainage pipes.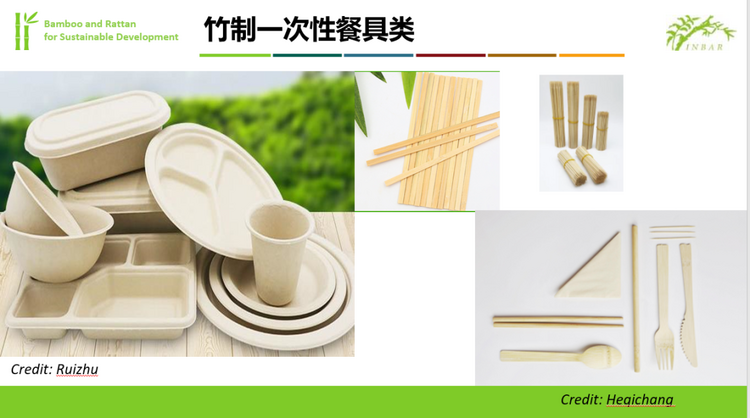 Bamboo Contributes to Achieving Dual Carbon Goals
There are 1,642 bamboo species worldwide and 837 in China, mainly distributed in 16 cities and provinces south of the Yellow River.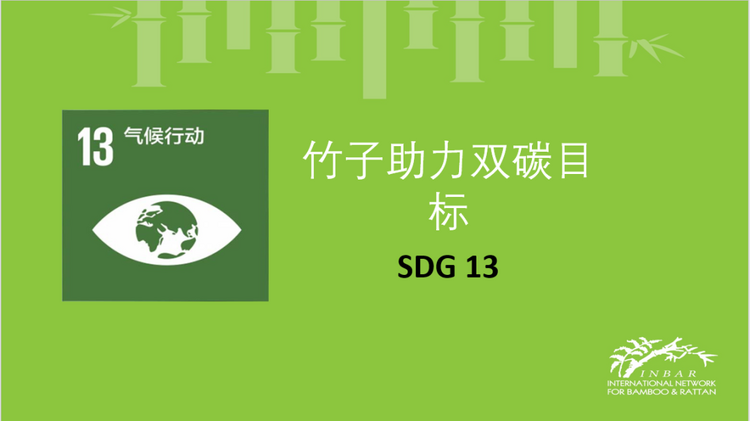 Bamboo can contribute to achieving dual carbon goals from five major perspectives:
* Bamboo forest carbon sink (carbon capture) : As an important forest resource, bamboo will contribute to carbon fixation;
* Product carbon library (carbon utilization) : Related bamboo products are adopted in everyday life to improve the utilization value;
* Bamboo supply chain emission reduction (efficiency enhancement and carbon reduction) : Improving the supply chain will promote the development of the circular economy and industrial parks, reduce carbon emissions and carbon leakage;
* Alternative emission reduction effect (synergistic carbon reduction) : substitution of high carbon emission materials and products (plastic, steel bars, cement), biomass energy;
* Carbon trading (carbon offsetting and carbon neutrality) : forestry carbon sink project methodology, carbon finance, carbon tariffs, carbon labelling.
Bamboo is also closely related to SDG15 of degraded land restoration and biodiversity conservation and SDG17 of inclusive partnerships.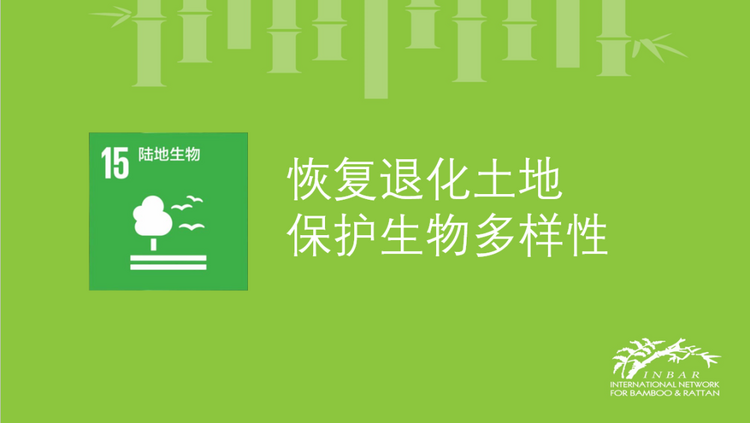 Bamboo and rattan are important nature-based solutions that help address a variety of global challenges, playing an important role in eradicating poverty, developing a green economy, mitigating and adapting to climate change, building disaster-resistant architecture and protecting the environment. Making full use of bamboo and rattan, two unique and strategic resources, is crucial to achieving the UN's SDGs. There is a long way to go to make efficient and reasonable use of bamboo and rattan resources.
Creativity 2030 Salon
Organized by ICCSD, Creativity 2030 Salon is one of a series of activities under the center's Creativity 2030 (C2030) brand. So far, 14 events have been held. The center will organize salon activities from time to time, with themes including creativity, sustainability, science and technology, culture. Every time, 1-2 experts, scholars and senior practitioners will be invited to communicate with the public in the form of speeches, dialogue and interactive Q&A.