Five Cases of Healthcare Design
The Covid-19 pandemic that began last year, has brought healthcare issues at the center of everyone's attention, around the world. Countries, governments and institutions have tilted the goal of national well-being towards medical research and development, medical system construction, policies and services related to major disasters' disease emergency measures and other directions. Individuals not only pay more attention to physical conditions, disease prevention means, travel safety measures, etc., but also realize that personal health problems are not just limited to the treatment and prevention of physical diseases. In response to the current epidemic, everyone began to think about how access improved and more comprehensive healthcare design and services for their daily lives. In order to help promote interdisciplinary research and practice results in the design field and the healthcare industry, three domestic university professors - Ding Zhaochen, Wu Lixing and Yang Yifan have jointly edited the book 'Lighting Healthcare Design' 100 International Creative Case-Studies' (Southwest Jiaotong University Press, to be published soon). The book collects and analyzes outstanding healthcare design case-studies from China and International and comprehensively introduces relevant organizations, enterprises, designers and other resources. The work covers the design of healthcare and medical products and equipment, traditional graphic design, healthcare management application design, architectural environment design, etc. Among them, we have selected five cases to share with our readers.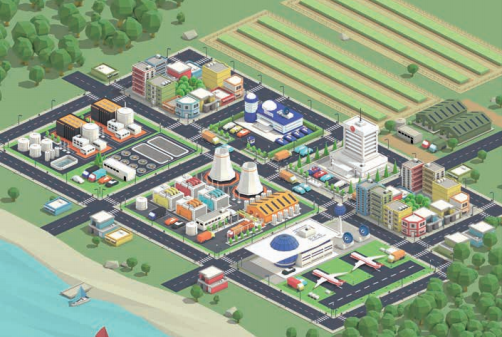 Sleep City
Cao Mingyang, Ma Guanzheng
(Beijing Institute of Fashion Technology)/2017
This is a game that tries to help users develop a good sleeping habit. Rules of the Game: by keeping the going to bed time and waking up time as key indicators, users who succeed in applying such indicators and maintain a good sleeping habit can win credits. The credits can then be used to build a city, where the quality of urban construction directly reflects the pros and cons of working and resting habits of the users. Following a development cycle of habit cognition, the game sets a sleep schedule on a 21-day cycle. Sleep is turned into a rewarding task and the graphic and game mode is also in line with the psychology of users, which may indeed effectively help users to go to bed on time voluntarily and autonomously.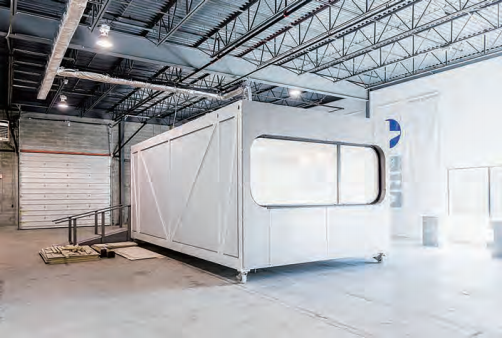 Medmodular
Eir Healthcare/2019
This is a modular ward introduced specifically for the internal space of the hospital, which can be built according to different use requirements. With the help of a modular design, any location can be transformed into a plug-and-play medical space. The modular single space is produced in batches by the factory in advance and flexibly arranged as needed. The ward can either exist on its own or in a hybrid configuration with the existing hospital space. In addition, the space is equipped with contactless equipment, such as hands-free door handles and faucets, to reduce the patients' contact with bacteria. The interior wall is equipped with a large screen display to allow medical staff to understand patients' physical status more clearly.
Play the Game Hall
Gao Yunshuai, Wang Xuejun, Bai Linyao (School of Digital Media and Design Art, Beijing University of Posts and Telecommunications) / 2019
This is a service system design for a community entertainment center which mainly focuses on elderly people. It is designed to meet the entertainment and spiritual needs of the elderly people who live alone, and is expected to provide them with companionship, trust and other emotional compensations in order to alleviate their psychological loneliness. Play the Game Hall is planned to be divided into five major areas, including Public Game Area, Health Monitoring Area, Private Game Area, Leisure Area and Exchange Area. The design team has redesigned the service system of the entertainment center, in order to provide facilities and elderly care service design for those elderly people living along. This design work includes the following principles: Create a new expression; Simplify the game operation process; Reduce the memory load for the elderly; Optimize the service relationship among people, things and environment.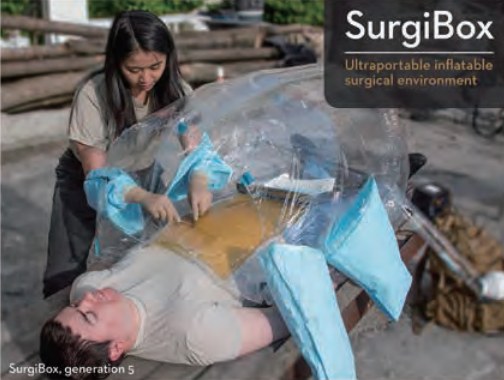 Surgibox
SurgiBox&MIT D-Lab/2019
This is a mobile surgical hood dedicated to address the problem of performing operations in a humble medical environment. There are many poor areas in the world that don't have enough resources to ensure a non-polluting surgical environment. The product is designed to help surgeons in these areas deal with medical infections that may be caused by dust, bacteria or other contaminants during surgery. The design adopts the concept of "wrapping" to ensure the safety of the space area where doctors perform operations. This design not only redefines the concept of "safe operations", but also provides a simple and inexpensive solution for the implementation of surgery in poor areas. It has lighting and other practical functions to ensure the visibility of the operating environment. In addition, the lightweight and convenient design also make it convenient for medical staff to carry it outside.
Breath of Life
McCann Health
Shanghai/2019
This is a chronic obstructive pulmonary disease self-examination APP that users can utilize on WeChat. With design integrating digital media technology and traditional art, it can help people understand their lung problems and keep their lungs healthy. Inspired by Chinese blowing paintings, the phone screen was designed to grow trees and flowers by blowing air towards the phone. Users need to select a tree form that they like and then exhale forcefully onto the phone and an artistic tree will grow out on the screen. A microphone on the phone records the sound of breathing of the user in real time and quantifies it into a sound wave. The APP design team used algorithms to transform sound waves and vital capacity into the shape of a tree. If the number of vital capacity on the phone is less than 70 percent that of a normal person, the APP will suggest that the user go to the hospital for a check-up. In addition, users can share their own tree images and invite friends to join the test. As shown in the survey, about 100 million people in China suffer from chronic obstructive pulmonary disease (COPD). But the shortness of breath caused by the disease is often considered a common symptom in older people, leading to a significant reduction in the number of patients receiving treatment for COPD. The APP design won the first Pharmaceutical Lion Grand Prix at the 2019 Cannes Lions International Festival of Creativity.