THE ROLE OF DIGITAL ECONOMY IN ADVANCING CREATIVE INDUSTRIES
Presented by : Professor Mehri Madarshahi
President@cultureisglobal.org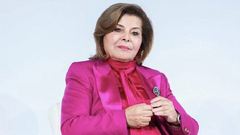 Mehri Madarshahi
Member of ICCSD Advisory Committee, Former Senior Economist of United Nations
INTRODUCTION
Creative industries is the name of the game in these days where both governments and private sectors have become keenly involved in its creations and advancements. Such a new topic, by its nature, could give rise to variety of interpretations on its scope and its diverse sectors. For the sake of this article, therefore, I decided to select a limited parameters and reflect on 11 cultural sectors such as music industry, book market, art market, film, broadcasting industry, performing art, architecture, design, press, advertising, software and game as shown in the following presentation (table 1).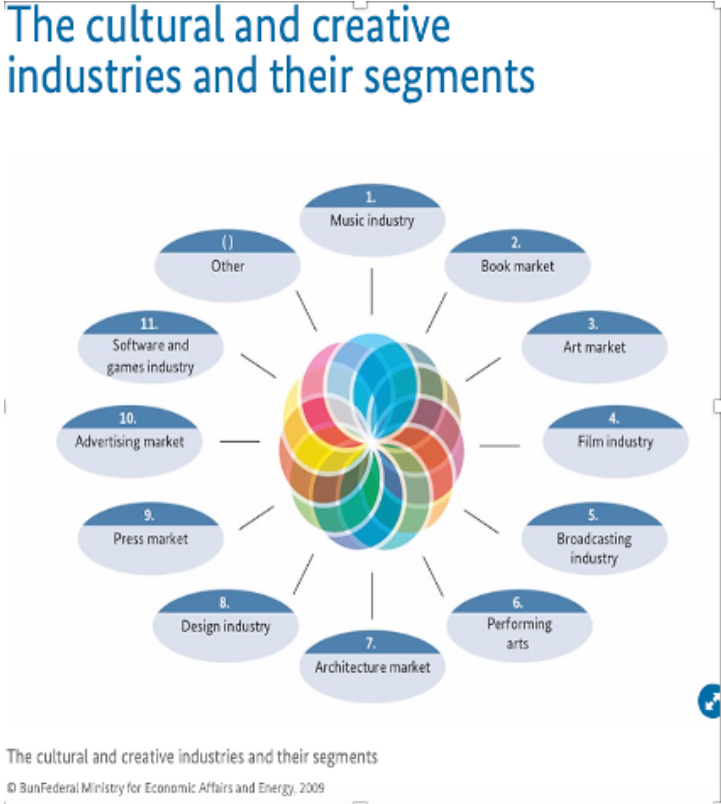 The scope of creative industries as defined by the United Nations Center for Trade and Development (UNCTAD) involve a vast field dealing with the interplay of various sub-sectors (table 2) from traditional art crafts to technology-oriented multimedia services.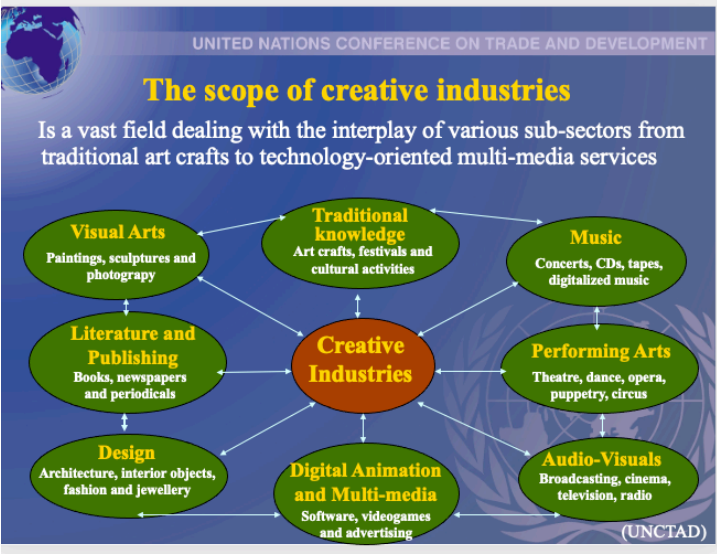 Progress paralyzed
The year 2021 was declared the International Year of Creative Economy for Sustainable Development by the United Nations General Assembly. The implementation of the Year is being led by UNCTAD, in consultation with UNESCO and other relevant UN entities, focusing on the contribution of culture/creative industry to the global economy and to sustainable development.
The International Year of Creative Economy for Sustainable Development could not have come at a more relevant time: COVID-19 brought havoc to the global community. It did not only stop economic and social progress, but also raised questions about the practicality of multilateralism, globalism and global governance.
The COVID-19 pandemic paralyzed the progress of creative industries. From creation, production, distribution to access, no actor within the creative value chain has been spared its impact. This crisis also revealed and worsened the pre-existing vulnerabilities within the culture sector.
Many artists and cultural professionals have been ineligible for social and economic assistance that saved workers in other sectors.
As of today, the pandemic continues its all encompassing devastation. Wide-spread closures of borders, venues and physical distancing measure, in particular, have hard hit the Live performance and venue-based industries, impacting livelihoods, artist mobility, market access and artistic freedom, together with broader repercussions for the value chain of suppliers and service providers. The crafts sector, a critical employment provider for many countries, has experienced a massive downturn. The crisis has accelerated pre-existing trends, in particular digitalization, and has exposed the pre-existing inequalities.
Table 3- Contribution of cultural sectors to advancements of economy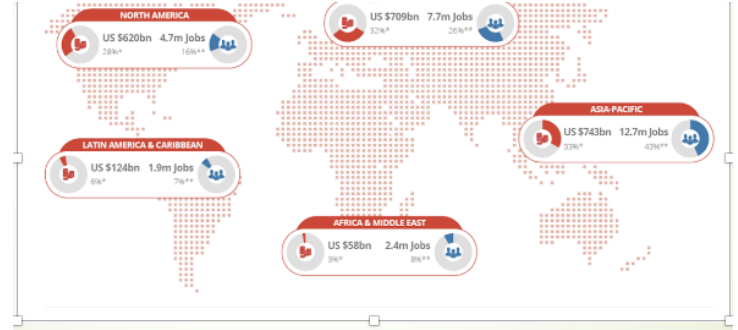 Year 2019, was the year when culture represented one of the most rapidly expanding sectors of economy (table 3).
For example, the creative economies among member countries of the Organization for Economic Cooperation and Development (OECD) grew at an annual rate twice that of service industries and four times that of manufacturing, generating employment and providing outlets for innovation.
At the same time, cultural industries reached a global value close to 1.3 trillion USD comprising 2 percent to 6 percent of GDP in many OECD countries and among the developing countries.
A review of the past contributions of creative industries to the economy of the global community could show a notable result. The value of the global market for creative industrial goods had doubled from $208 billion in 2002 to $509 billion in 2015 and as the most rapidly growing sectors of the world economy, it generated nearly 30 million jobs worldwide, employing more people aged 15 to 29 than any other sector.
Revenue from creative industries exceeded those of telecommunications services (which comes in at $1,570 globally and even surpassed the entire GDP of India ($1,900 billion).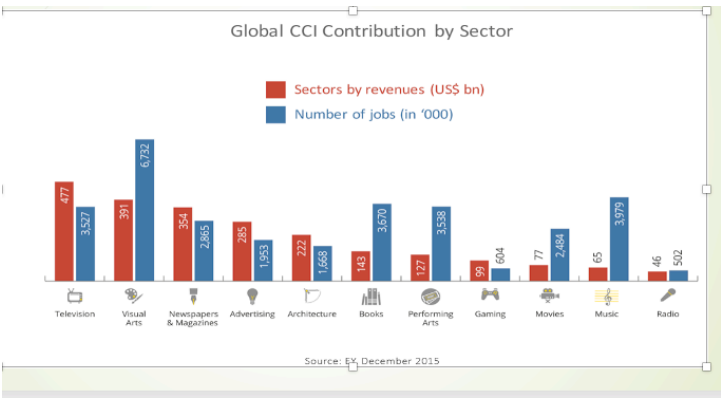 Creative industries generated 29.5 million jobs, which employ about 1 percent of the world's active population. The top three employers are visual arts (6.73 million employees), books (3.67 million) and music (3.98 million).
Creative industries also employed more people than the automotive industry in the United States, Europe and Japan combined.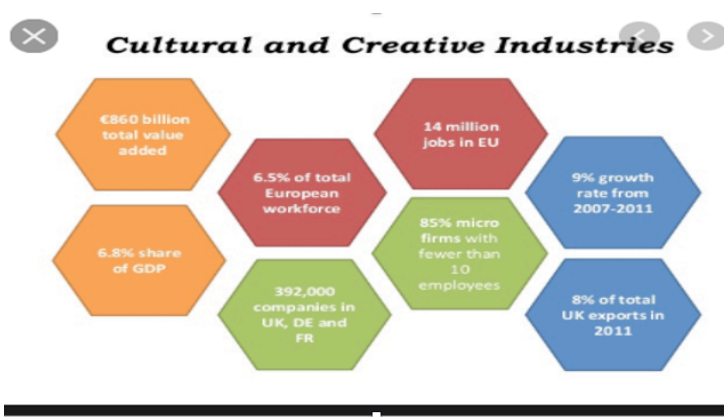 Researchers found that creative industries are open to people of all ages and backgrounds, and provide a significant contribution to youth employment and careers.
In Europe, cultural sectors employ people between the ages of 15 and 29 more than any other sector; they also have more women participants than any traditional industries. Statistics compiled by the government of the United Kingdom show that women accounted for more than 50 percent of the people employed in the music industry in 2014, compared with 47 percent in the overall active population.
In 2019, among 11 cultural sectors revenue generated was around $2,250 billion (3 percent of world GDP). The highest earners were television ($477 billion), newspapers and magazines ($354 billion) and visual arts ($391 billion).
The negative impact of the coronavirus on cultural life and artistic expressions was, however, sudden and unpredictable. It forced many nations to retreat from all their planned activities at short notice and the ensuing lockdown caused cancellation or postponement of global events such as the Tokyo Olympics, other sports programs, festivals, arts fairs and exhibitions.
At present, it is difficult to assess the overall economic impact on the value chain and its sub-sectors; nevertheless, some estimates provide an essential snapshot of the seriousness of damage suffered by the industry. In France alone, the health crisis is affecting 2 000 cinemas, 3 000 bookshops, 1 200 museums, 1 000 theaters, hundreds of art galleries and life events including festivals or trade fairs. In Slovenia a survey shows that cultural workers expect the turnover of businesses to decrease by an average of 44 percent in 2020. 63 percent of cultural entrepreneurs felt that state measures were insufficient to cover the losses.
German employment index retracted by over 6 percent as data collected in June 2020 show.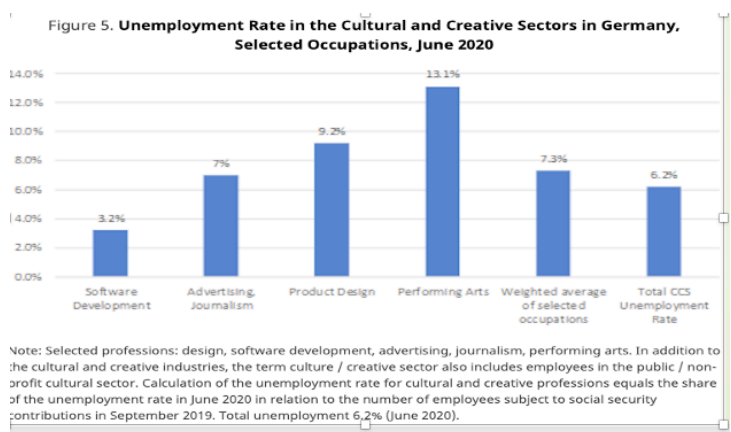 However, it did not take long until new ways for presenting and consuming art and culture in different forms were pursued. Artists, producers, museums and cultural institutions switched to online streaming and digital tools in innovative ways. These included architecture, archives, libraries and museums, artistic crafts, audiovisual tangible and intangible cultural heritage, design, festivals, music, literature, performing arts, publishing, radio and visual arts.
Digitalization has been a game changer for the creative economy, impacting the entire creative value chain and changing the way we communicate, create and work. The digital age has also led to a more complex ecosystem with new large tech players, such as Google, Netflix and Amazon, entering the market.
COVID-19 acted as an accelerator to foster wider recognition of the economic weight of the cultural sector.
As Paul Romer Economics Nobel laureate famously noted in 2004, "A crisis is a terrible thing to waste." Pandemic as such has alternatively been used as a motto for reforming the systems of government, science, economic outlook, social and cultural comfort zones and consumerism.
To face these challenges, technological innovation can be crucial to boost policies not only on poverty reduction and extreme hunger eradication, access to clean water, improve farming, educations, waste management, transportation and health, but also, IT could be an essential help to creativity and cultural industries.
Adopting digital economy based on rapid advances in artificial intelligence, and other emerging technologies such as the Internet of Things (IoT), robotICs, biotechnology, nanotechnology andquantum computing, could change the production of food, goods, services, and the labor market dramatically.
The pandemic crisis has given us a glimpse of the future, in which doctors COULD treat patients in another country by video conference call, teachers provide remote instruction to students studying from their homes, and engineers could send design files to 3D printers to replace or modify parts, such as those used in ventilators. As the crisis continues, the inevitable shift toward digital services will be accelerated.
The unprecedented disruption by COVID-19 is accelerating the urgency for agility, adaptability and transformation. Industry structures and business models are being disrupted – and the digitalization of the economy is being rapidly accelerated.
Notable among all, four technologies are key to the future of the creative economy. Augmented reality, virtual reality, artificial intelligence and block-chain will, for better or for worse, collectively and fundamentally disrupt how we produce and consume content in the creative economy.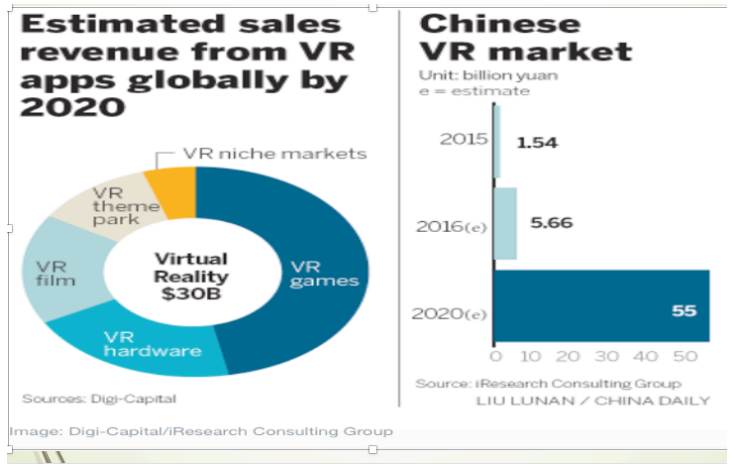 Digital technologies promises many solutions; some are already evident in daily life, working from home, making shopping easy, allowing people to connect with friends, share information, and build their own start-ups.
Despite these, there is a darker side to these dynamism and advancements. For fact, we do not yet know just how it will unfold but, its scale, scope, and complexity will inevitably force transformation unlike anything humankind has experienced before.
It will fundamentally alter the way we live, work, and relate to one another and these possibilities will be multiplied by emerging technology breakthroughs in fields such as artificial intelligence, robotics, the Internet of Things, autonomous vehicles, 3-D printing, nanotechnology, biotechnology, materials science, energy storage, and quantum computing. Yet, these rapid expansions of digital advancements could soon face significant challenges. Taking into account that an estimated 70 percent of new value created in the economy over the next decade, will be based on digitally enabled platform business models, the stumbling blocks will be presented by 47 percent of the world's population who remain unconnected to the Internet and unable to support and use these facilities. As a result, the existing divide between the haves and have not will grow deeper and it could lead to backwardness and under performances, income disparities, poverty and unemployment among those countries who require further investments and are unable to catch up.
Fear of the arrival of a "Weaponised' AI" that can manipulate us without our knowledge through spreading propaganda influencing our important decisions, such as how to elect and who to vote for (the case in mind is the recent US Presidential Election) could erode the necessary trust for advancement of digital economy and could give rise to uneasiness. Digital "monopoly" could also lead to concerns about data privacy, ownership and security.
A winner-takes-all economy offering only limited access to the middle class is a recipe for democratic malaise and dereliction.
Today's decision-makers, however, are too often trapped in traditional, linear thinking, or too absorbed by the multiple crises demanding their attention, to think strategically about the forces of disruption and innovation that is shaping our future. We need to shape a future that works for all of us by putting people first and empowering them to face the upcoming challenges of the future.