E-healthcare Services to Play Bigger Role in Economy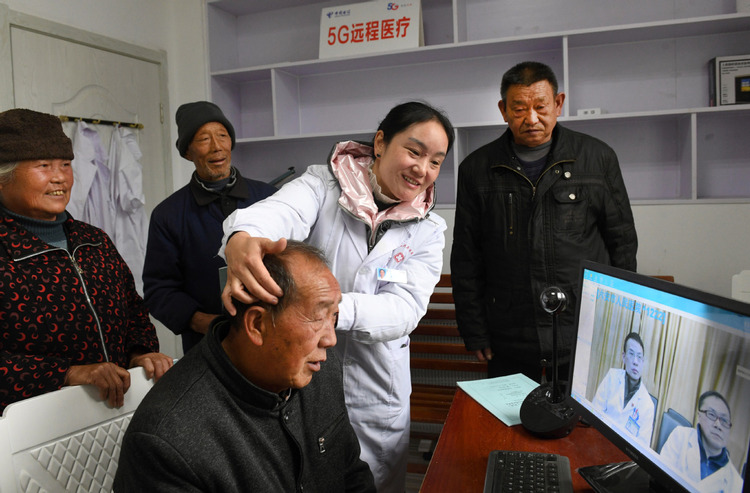 A village doctor (second from right) helps a patient take part in a virtual consultation in Jinzhai county, Anhui province, in December. [Photo/Xinhua]
On a typical Thursday morning, Hui Ying, a gynecologist at Beijing Hospital, starts receiving her visitors at the clinic. Only, this time, the "reception" and the clinic are online, not the usual face-to-face interactions. Hui launches the hospital's mobile app on her smartphone, which establishes a real-time video line with the patient for the virtual consultation.
Through such e-consultations, Hui offers diagnosis and prescriptions to patients. She normally receives 15 patients in virtual hospital on Thursday mornings. For Monday, Wednesday and Friday, she works in her consultation room at Beijing Hospital to serve patients face-to-face.
Hui is among the some 1 million doctors in China who have been continuing their medical practice online in response to the COVID-19 pandemic situation.
On March 25, the National Development and Reform Commission and 27 other departments issued an action plan to accelerate the development of new types of consumption. Internet-based healthcare figures in the list of new types of consumption.
Twenty-four detailed measures, including increasing governmental financial support and encouraging social financing, figure in the action plan.
The larger goal is to further promote the development of online healthcare and other new types of consumption.
According to the action plan, detailed documents of online healthcare supervision will be released, to promote normal development of the sector.
Meanwhile, medical practitioners who work in brick-and-mortar medical institutions are encouraged to conduct multi-site practice on internet-based hospital platforms.
Chen Qiaoshan, an independent medical analyst, said: "The details of the action plan weaken the control of physical hospitals over doctors, and promote their movement within the country's medical system.
"Ever since 2018, the country has been promoting the development of online healthcare, and the COVID-19 outbreak further underscored the importance of the sector, stimulating the introduction of more supportive policies. Now, the practical thing is how to get more doctors actually involved in the sector," she said.
On March 26, the Beijing Municipal Health Commission approved the establishment of the internet-based hospital of Peking Union Medical College Hospital, a renowned public grade-3A hospital in the national capital.
Currently, 19 departments, including cardiology, endocrinology and dermatology, offer e-services, enabling patients to review medical history, consult a doctor and get prescriptions online.
"The establishment of the internet-based hospital of PUMCH will serve as an example for the rest of public hospitals nationwide," Chen said.
Data in the public domain showed that by the end of March, there were more than 1,100 internet-based hospitals across China.
However, experts noted that internet-based healthcare cannot be used in all situations.
Doctoral degree-holder Shi Xiaochen, an ultrasonic department physician-in-charge at Peking University People's Hospital, said that for patients with recorded medical history, or whose symptoms are relatively typical, online healthcare may help, while for patients with more complex situations, face-to-face diagnosis and treatment are needed.
"For example, for musculoskeletal disease patients, the ultrasound-guided interventional therapy we are conducting now can only be realized offline."
As the new field has broad application space, industry experts are expecting more policies to solve practical issues.
To spur doctors' initiative to offer services online, Chen suggested the government include the ratio of doctors practicing online into hospitals' performance appraisal.
In terms of the imbalance between urban and rural services, Huang Tao, an independent digital economy expert, said: "It's expected internet-based healthcare can further penetrate the country's grassroots, so that high-quality medical resources can reach more patients.
"Besides, developing internet-based healthcare in rural areas requires the introduction of high-end remote devices and fast signal transmission, which needs coordinated efforts from the central and local governments, medical institutions, as well as internet-based healthcare platforms."