Online Education Helps Diversify Career Paths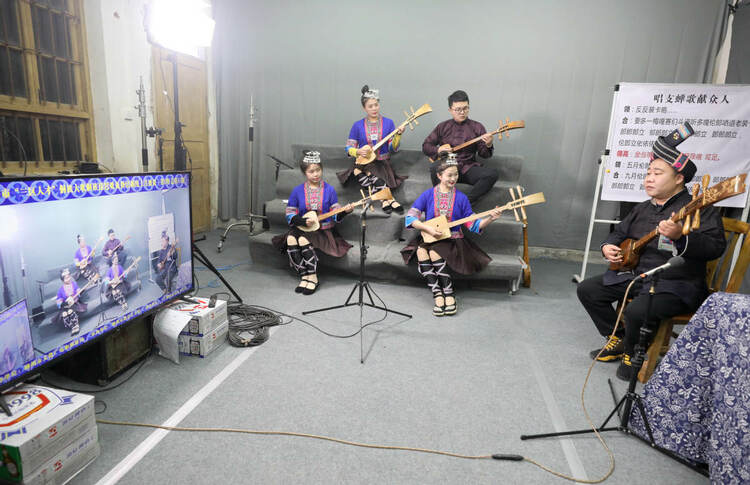 A teacher gives online training to those interested in singing folk songs and playing traditional Chinese instruments in Liuzhou, Guangxi Zhuang autonomous region, in January. GONG PUKANG/FOR CHINA DAILY
Millions of Chinese pay for virtual vocational courses, invest in themselves with architecture, design among popular choices
Tan Qiang, 36, from Qimen, Anhui province, recently completed a one-time online photography class.
The 54-minute session cost him 185 yuan ($23.5). Although he works hard at a factory for his keep, he still jumped at the chance to take the course.
"It was during the pandemic that I realized having a skill is a must. I took the class to be a part-time, even full-time, photographer later to add a source of income for the whole family," he said.
Millions of Chinese like Tan are paying for online vocational courses and investing in themselves, where they seek new skills to improve themselves, especially when the country is undergoing a huge industrial upgrading and transformation after the COVID-19 pandemic.
As a shutterbug, Tan was always asked by his family members and friends to take pictures of them. Given the factory he worked at has laid off many workers due to a tough period caused by the pandemic, Tan decided to develop his interest into a marketable skill.
In China, the online vocational education market has been booming at an unprecedented rate in recent years, with demand for vocational skills enhancement on the rise.
According to a report by market consultancy iResearch, China's vocational education market is expected to hit 19.19 billion yuan this year, of which the online vocational market has been soaring 20 percent per year.
"The online vocational education market will become the mainstay. The average revenue per user will gradually increase as heavy training replaces light training," said Ge Wenwei, partner of Duojing Capital.
"The market will continue to boom and will have a higher penetration rate than the K-12-kindergarten to 12th grade-period," Ge said.
The iResearch report said COVID-19 has put online vocational education in the fast lane of development, which is likely to greatly accelerate the overall online education development.
According to a report released by Tencent Classroom, an online vocational education platform by tech giant Tencent Holdings Ltd, users paying for medical and healthcare classes have seen strong recent growth.
Architectural engineering, graphic design, practical English, medical and healthcare and artistic painting are among the top 10 most popular course categories.
Tencent CEO Pony Ma has called for accelerated efforts from famous schoolteachers and training institutions to develop online classrooms to allow society to "vigorously develop online vocational education".
"The main goal is to help various groups to improve their business skills and increase employment opportunities, especially with the development of the industrial internet and the acceleration of digital transformation and upgrading of the overall economy," Ma said.
He said emerging technologies are accelerating the integration and innovation of different traditional industries, giving birth to a large number of emerging occupations.
"The country is seeing urgent demand for high-quality compound talent with strong practical ability and innovation ability, such as 5G, artificial intelligence, the industrial internet and other new jobs," Ma added.
The State Council earlier launched a document targeting reform of China's vocational education system, which strongly advocates for the integration of industries and education by encouraging universities and enterprises to work together to deploy training plans.
Moreover, the reform also unveiled a pilot program-"1+X "model-utilizing academic and vocational skill level certificates to encourage students to acquire more skills while obtaining a diploma.