Observatory on Creative Cities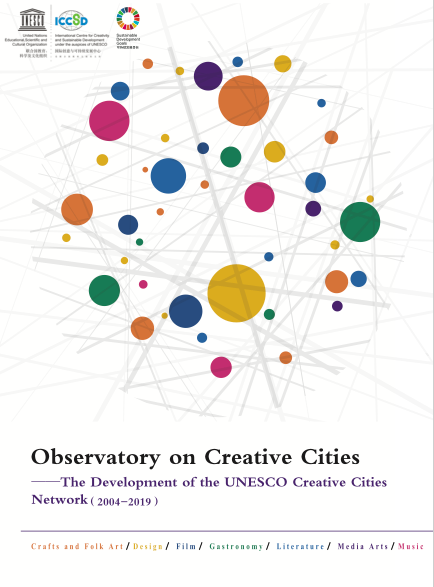 Cities have historically advanced human development, serving as melting pots for people of diverse backgrounds. A city is a crossroad where the local interacts with the global, it is an intersection where tradition dialogues with modernity. The rapid expansion of cities in the age of globalization is not only a process of economic and social development that is called to respect cultural diversity, but also a challenge and opportunity for sustainable development. Increasingly, knowledge, culture and creativity have become new keywords in understanding the speedy urban transformations, coinciding also with the emergence of knowledge societies.
Cities are at the heart of development and innovation. Yet the cities of today and tomorrow are facing new, unprecedented challenges. Home to half the world's population today, cities are expected to shelter two-thirds of it by 2050.
Although occupying only two percent of the world's landmass, cities consume sixty percent of global energy, release seventy-five percent of greenhouse gas emissions and produce seventy percent of global waste. As cities expand, they threaten biodiversity, and place urban infrastructure and resources – from water to transport to electricity – under enormous strain. Unchecked development and mass tourism place cultural heritage sites and living heritage practices at particular risk. Rising inequality and migration make cities the focal points for new social cleavages, exclusion and discrimination.
Exploring the linkages between creativity and sustainable development from an urban perspective has been a major focus in promoting international cooperation among cities. Numerous city alliances and networks have been created. Since 2004, the ever-expanding UNESCO Creative Cities Network (UCCN), now counting 180 from 72 countries, is working to leverage the ability of cities to bring creative people together, to spark economic growth, to foster a sense of community and to preserve urban identities and heritage.
These cities have chosen creativity as a strategic factor for their sustainable development. They also subscribe to the recognition that culture is both an enabler and a driver of development. UCCN aims at enhancing the dynamism, power and innovation that have shaped a particular city's development. Under the seven established categories – Literature, Film, Music, Crafts and Folk Art, Design, Media Arts and Gastronomy – any UNESCO creative city can engage with other designated cities, exchanging experiences and knowledge, drawing on best practices and inspiration from other world centers, and promoting cross-fertilization.
Part of creativity is, of course, design. Beijing has been named by UNESCO as a creative city of design. This designation recognizes the dynamism, drive and innovation that has inspired and put its stamp on the capital's development. As such, Beijing is well-placed to engage with other world cities - and promoting cross-fertilization of the best and brightest minds.
The International Center for Creativity and Sustainable Development (ICCSD) is a new international think tank for creativity development, and advance of the 17 SDGs. To this end, ICCSD has launched CREATIVITY 2030 (C2030), a new global initiative which seeks to stimulate, mobilise and exchange creative solutions, tools and approaches in all walks of life.
As an integral part of C2030, ICCSD has prepared the present publication An Observatory of Creative Cities: The Development of the UNESCO Creative Cities Network (2004-2019). It provides an analysis of the present composition of UCCN from various perspectives and complements it with in-depth reports on selected creative cities. The report finally shares the perspective of various decision-makers and stakeholder about their experience with creative cities as new and dynamic actors on the international scene in the pursuit of The 2030 Agenda for Sustainable Development, as adopted by the United Nations in 2015. These contributions underline that Creativity and Sustainability are interlinked and have become inseparable elements of nowadays development paradigm.
——Dr. Hans d'Orville Former Assistant Director-General of UNESCO, Chairman of ICCSD Advisory Committee