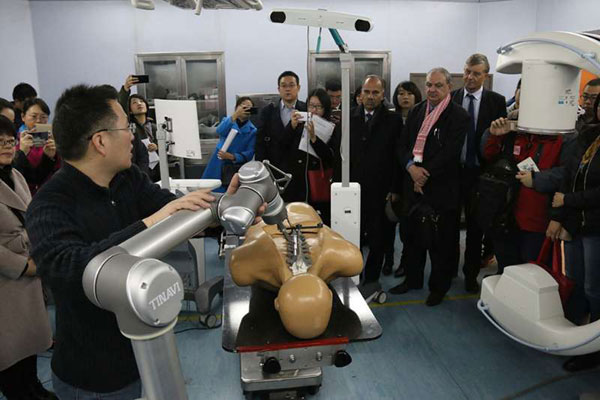 Zhu Rongtao, CMO of TINAVI Medical Technologies Co. Ltd., shows how the orthopedic surgical robot developed by his company works in an operation to a group of overseas social media stars in Beijing. [Photo: CRIENGLISH.com/Han Jitao]
Written by Ayo Johnson, British journalist and GLG Council Member &Consultant at GLG
The next generation of development in medicine science is not doctors training nor is it the latest drug that takes a considerable time to bring to the market usually costing millions of dollars.
Advancement in robotic technology is changing the way we see the world. These robots can carry out complex operation with a difference in saving lives and reducing inflammation.
Robotic arm guided via a computer programming can manoeuvre independently with great precision. These operating geniuses developed by TINAVI Medical Technologies can adjust during an operation to accommodate; minimising damage to patient with nerve, neck and spine conditions.
The Chinese government eager to improve the health of its citizens is trailing this technology in hospitals across the country. In the future expansions in this technology will assist doctors whose jobs can only become easier.